Two Hearings: Arraignment and Motions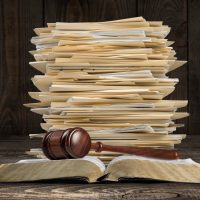 The court martial is under way. First up: Two pre-trial hearings and the beginning of the discovery phase, where each side shares its evidence with the other and builds its case. We'll talk about discovery in the next post. In this one, we want to discuss the two pre-trial hearings.
The Arraignment Hearing
The arraignment hearing takes place at least five days after the referral of charges. There are three things to know about it:
1) This is the time to ask the court to defer forum selection until later in the process. At this point your attorney has not received all the evidence in the case and the motions hearing, which can sometimes alter the field substantially, hasn't yet taken place, so your attorney may recommend doing this.
2) Once the charges have been read, the judge will ask whether you plead guilty or not guilty. You can—and in some instances should—wait until later in the process to enter your plea, for the same reason as deferring forum selection: your attorney should receive and review all of the evidence in the case first.
3) The prosecutor cannot add additional charges to the charge sheet after the arraignment.
The Motions Hearing
The motions hearing is an opportunity to prepare the battlefield before the trial: to test the government's case, call witnesses, and seek to introduce evidence that, if admitted, will undermine your accuser's credibility. Sexual assault cases can be won and lost during the motions hearing.
For example, if you made a damaging statement to law enforcement during the investigation, your attorney may file a motion asking that it be ruled inadmissible in court.
Persuading the judge to rule in favor of a motion requires you and your attorney to accomplish two things:
1) Prove that the facts in your motion are true and relevant. The burden of proof is always on the side that files the motion. At this stage, facts don't have to be proved beyond a reasonable doubt. The threshold at a motions hearing is to at least a 51% certainty.
2) Produce evidence to support those facts. This can include witness testimony or even your own testimony, either delivered on the stand at the hearing or in a written affidavit prepared beforehand.
In some (relatively rare) instances, the preadmission of particularly strong evidence at the motions hearing can even force the government to dismiss its charges.
Capovilla & Williams can help navigate these hearings. Call them at (404) 496-7974.