Mickey S. Williams
Founding Partner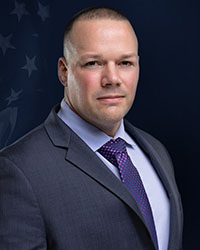 "One of the major problems with the military justice system today is how quickly a service member's command will turn on them under the pressure of even a baseless allegation. In today's environment, Soldiers, Airmen, Sailors and Marines are flagged, removed from the promotion list, suspended from duty, and stripped of their reputations seemingly overnight. One day they're viewed as productive members of their unit and the next day he or she is treated like garbage. This is not right and these service members owe it to themselves to fight back and to fight back with everything they've got."

Mickey Williams, Esq
As an Army Ranger, Mickey Williams knows how to fight for what he believes in. The same discipline, work ethic and tenacity that drove Mickey as a war fighter is what drives him in the courtroom today as a passionate and devoted military justice defense attorney. As a trial attorney, Mickey has been described as a "rock star with an uncanny ability to relate to his audience with vivid and convincing story telling." After a recent case, Mickey was told by a veteran military judge that his closing argument was "the best I've ever seen, and I've been doing this a long time." In describing Mickey's trial skills, a fellow colleague simply stated: "You can't teach what he can do."
Background
Immediately after graduating High School in 2002, Mickey joined the Army as an 11B, Infantryman under a Ranger Regiment contract. He survived the grueling rigors of basic training in the hot and balmy weather of Fort Benning, GA. After basic training he went to Airborne school, jumped out of perfectly good airplanes, and trained for his biggest test at that time: the Ranger Indoctrination Program (RIP), now known as the Ranger Assessment and Selection Phase (RASP). Out of 200 initial RIP candidates, only 34 remained on graduation day: Mickey made it.
Shortly after graduation, he was then assigned to B Company, 1st Ranger Battalion, 75th Ranger Regiment. While at the Ranger Regiment, Mickey went on four combat deployments to Iraq and Afghanistan. He participated in over 100 combat missions to include the initial invasion of Iraq, the rescue of POW Jessica Lynch, and the capture of dozens of terrorists. He also knew and served with CPL Pat Tillman the former NFL legend who sacrificed his life for his country while at the 75th Ranger Regiment. Additionally, Mickey obtained his Ranger Tab, Combat Infantry Badge, Air Assault Badge, and Expert Infantry Badge. He has operated closely with SOCOM forces such as the Navy SEALs, Green Berets, Air Force Pararescue (PJ), and Delta Force.
In 2006, Mickey ended his enlisted career and attended the University of Oregon where he earned his bachelor's degree. Following college, Mickey was accepted into the Willamette University College of Law where he excelled. Mickey became a member of the Oregon State Bar in 2013. After passing the Bar exam, Mickey commissioned into the United States Army Judge Advocates General (JAG) Corps. He was assigned to Fort Lee, Virginia where he was selected to practice in Military Justice as a Prosecutor.
Mickey was also appointed by the Military Judge as a Part-Time Military Magistrate. As a military magistrate, Mr. Williams presided over pre-trial confinement hearings and issued warrants for seizing or searching for evidence. He also was tasked with analyzing whether law enforcement could arrest soldiers for alleged misconduct. Mr. Williams also served as an Article 32 Investigating Officer, legal advisor for 15-6 and FLIPL investigators, and regularly provided legal advice to a Brigade Commander and Brigadier General.
After three years as a military prosecutor, Mickey requested a transfer to be a military defense attorney. His request was granted and he was sent to the busiest legal jurisdiction in the United States Army: Fort Campbell, KY. He practiced there as a Defense Attorney and achieved stunning results for cases which included charges for murder, sex assault, assault and battery cases, domestic violence and all cases covering the spectrum of charges under the Uniform Code of Military Justice (UCMJ).
As a civilian defense attorney, Mickey has represented hundreds of service members accused of sexual assault, sodomy, desertion, desertion during wartime, insubordination, obstruction of justice, solicitation, AWOL, fraternization, inappropriate relationship, larceny, drug possession, drug use, drug distribution, adultery, premediated murder, manslaughter, DUI, damage to government property, negligent homicide, attempted murder, attempted sexual assault, abusive sexual contact, fraud, larceny, conduct unbecoming, drunk and disorderly conduct, and fraternization, among others.
Credentials
Licensed to practice in ALL MILITARY COURTS and Member of the State Bars of Oregon, Tennessee, and Georgia.
10 AVVO Rating
Former JAG Defense Counsel
Former Part-Time Military Magistrate
Former JAG Prosecutor
Former Article 32 Investigating Officer
Former Legal Advisor to Investigating Officers under UCMJ and for Financial Loss Investigations
Infantryman Who Served In Ranger Regiment
Iraq and Afghanistan Combat Vet
Over 100 Combat Missions, Operating With Navy SEALs, Green Berets, Air Force Pararescue (PJ) and Delta Force
Veteran Trial Lawyer
Licensed To Practice In ALL Military Courts
Guest Lecturer at Georgia State University College of Law
Published Author
Earned the following military school badges: Combat Infantry Badge, Expert Infantry Badge, Ranger Tab, Airborne, and Air Assault