Robert F. Capovilla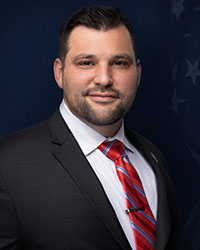 "In today's military justice environment, Soldiers, Airmen, Marines, and Sailors alike are continuously and unjustly being prosecuted under the shadow of baseless accusations and incomplete investigations. Our nation's warriors are forced to defend themselves and their characters in cases where the only evidence of wrong doing is one person's word or version of the facts. These men and women watch their careers seamlessly fall apart as command and military law enforcement agencies care more about protecting their own careers than finding out the truth. Our nation's heroes deserve better, they deserve the benefit of the doubt . . . they deserve to fight back."

Robert F. Capovilla
As a defense attorney, Robert has served as lead counsel on hundreds of violations under the UCMJ including sexual assault, sodomy, desertion, desertion during wartime, insubordination, obstruction of justice, solicitation, AWOL, fraternization, inappropriate relationship, larceny, drug possession, drug use, drug distribution, adultery, premediated murder, manslaughter, DUI, damage to government property, negligent homicide, attempted murder, attempted sexual assault, abusive sexual contact, fraud, larceny, conduct unbecoming, drunk and disorderly conduct, and fraternization, among others.
Achievements
During his time as a military justice practitioner, Robert has received praise from clients and military officials alike as one of the most talented and charismatic trial attorneys working in the field today. Robert has been described by senior military attorneys and military judges as, "the best trial lawyer I have seen in my 18 years as a military attorney," "an absolute natural in the courtroom," and, "an exceptional advocate who is cool and calm under pressure." Robert has earned a national reputation as one of the very best military sexual assault defense attorneys in the country. Robert has worked thousands of sexual assault allegations all over the United States, in 6 different continents, and in each of the 5 branches of the Armed Forces.
In 2019 Robert was selected as a Premier Lawyer of America and named as a Top 40 trial attorney in the United States for attorneys under the age of 40. Recently, the National Trial Lawyers Association nominated Robert as a Top 40 trial attorney in the nation in the area of criminal law, which is a distinction that only the most qualified attorneys from each state or region receive. Robert has served as a guest lecturer in Military Justice at Georgia State Law School where he taught students about the courts-martial process and he was asked to speak to the Georgia Bar Association where he lectured on military law, discharge upgrades, and separation boards. Robert has also taught classes on the military rules of evidence, cross examination, and the importance of a great opening statement. Most recently, Robert was asked to present to the Georgia National Guard Legal Command where he answered questions for high ranking legal officers and military judges on cross-examination, case theme and theory, and the importance of winning the jury's trust.
Background
Prior to entering private practice, Robert was an active duty Judge Advocate in the Army JAG Corps. While serving as a Judge Advocate, Robert was hand selected by Jag Corps leadership to work some of the most complex, difficult cases in the Corps. As a defense attorney, Robert worked on high profile cases that were covered by major news outlets such as CNN, ABC News, and Fox News. In addition to serving as a Trial Defense Services attorney, Robert gained valuable litigation experience as both a Trial Counsel and a Special Assistant United States Attorney. Having worked as a military prosecutor and defense counsel, Robert possess the experience, judgement, and skill to ensure that your rights will be protected throughout each and every step of the military justice process.
In private practice, Robert focuses much of his time on representing Service Members who have been accused of sexual assault. Robert has earned acquittal after acquittal on sexual assault cases at military posts all over the world. Robert has won several two victim sexual assault cases, alcohol related sexual assault cases, and husband-wife sexual assault cases. Robert prides himself on investigating every facet of a sexual assault case to discover the truth and he's truly passionate about defending service members who have been falsely accused of sexual assault. In today's political climate, Robert will even the playing field.
Testimonials
Consider these endorsements from some of Robert's prior clients who were accused of sexual assault:
"I initially hired a different civilian counsel from a different firm. He told me that I did not have a chance at winning my case. I heard from several people that Mr. Capovilla was the best at winning sexual assault cases. I decided to hire Mr. Capovilla and I was not disappointed. During his opening statement, I heard the chief prosecutor say, "we're in the big leagues now." After 4 days of trial, I was fully acquitted of all charges. After the case was over, there was a line a people waiting to meet Mr. Capovilla and take his card. He's that good."
"My husband was falsely accused by two women of sexual assault. Both of the accusers were married to E-8's in my husband's unit. We hired Mr. Capovilla. Here's the bottom line – Mr. Capovilla is extremely intelligent and quick-witted in and out of the courtroom. He embodies intelligence, charisma, confidence, humor and boldness. He made my husband's accusers look like complete fools on the stand, pointing out all the inconsistencies in their stories, showing the board how they lied and colluded to try to end my husband's 17-year career. His closing statement was the best thing I've ever seen in the courtroom in my life. The panel members only convened for roughly 10 minutes before delivering a NOT GUILTY verdict."
Credentials
Licensed to practice in ALL Military Courts and Member of the State Bar of Ohio
Rated 10/10, Avvo
Legal Elite, Georgia Trend Magazine
Top 10 in 10 Young Professionals, Cherokee County Chamber of Commerce
Former JAG Defense Counsel and Prosecutor
Former Special Assistant United States Attorney (SAUSA)
Former Military Magistrate
Former Legal Advisor to Investigating Officers
Former Article 32 Hearing Officer
National Trial Lawyers Association
National Trial Lawyers Top 40 Criminal Defense Attorney, Georgia
Air Assault Wings, Overseas Tour, Veteran Trial Lawyer, and Published Author
Member of the National Association of Criminal Defense Lawyers