Robert F. Capovilla
Founding Partner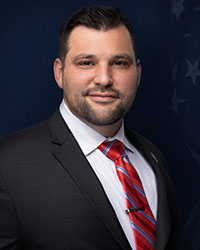 Robert Capovilla is a nationally recognized military defense attorney with an established reputation for providing exceptional legal representation to service members of all ranks and branches.  A true trial lawyer, Rob started his legal career in the U.S. Army JAG Corps where he served as both a prosecutor and defense counsel in hundreds of high-level felony cases involving sexual assault, domestic violence, murder and homicide, and drug-related offenses.  Today, Rob is routinely hired by U.S. military personnel worldwide to represent them in complex legal matters – many of which involve allegations of sexual assault – that threaten their freedom, careers, family life, and reputations.
In addition to his direct work on behalf of clients, Rob is often called upon as an expert on military law issues by leading media organizations such as CNN, The Military Times, Stars and Stripes, The Washington Times, WAVY and Politico.  (See below for recent appearances.)  Rob is also a co-host of the popular Military Justice Today Podcast where he tackles the most important topics in military law along with his law partner and friend, Mickey Williams.  For a playlist of sexual assault-related podcast content, click here.
For Rob, representing those who wear the uniform is more than a career. It's a calling.
"In today's military justice environment, Soldiers, Airmen, Marines, and Sailors alike are continuously and unjustly being prosecuted under the shadow of baseless accusations and incomplete investigations. Our nation's warriors are forced to defend themselves and their characters in cases where the only evidence of wrongdoing is one person's word or version of the facts. These men and women watch their careers seamlessly fall apart as command and military law enforcement agencies care more about protecting their own careers than finding out the truth. Our nation's heroes deserve better, they deserve the benefit of the doubt . . . they deserve to fight back." – Robert Capovilla
Military Service
United States Army JAG Corps
Military Magistrate
Military Prosecutor
Military Trial Defense Attorney
Special Assistant U.S. Attorney
Administrative Law Attorney
Honors & Awards
Rated 10/10, Avvo
Super Lawyers Rising Star, Thomson Reuters
Legal Elite, Georgia Trend Magazine
One the Rise Honoree, Georgia Legal Awards
Top 10 in 10, Cherokee County Chamber of Commerce
Representative Case Results*

All of the below case results are from 2021 and 2022.
Army 0-2 accused of sexual assault at Fort Stewart, GA.  Result:  Not guilty of all charges after a four day trial.
Navy E-4 charged with sexual assault at JAX Naval Base, FL.  Result:  Not guilty of all charges after a five day trial.
Army E-7 accused of domestic violence at West Point, NY.  Result:  All charges dropped.
Air Force E-4 charged with domestic violence and communicating a threat at Hanscom AFB.  Result:  Not guilty of all charges after a four day trial.
Army 0-5 accused of child abuse in Germany.  Result: All charges dropped.
Air Force E-5 accused of sexual assault at Grand Forks AFB, ND.  Result:  Retained after separation board.
Army E-4 accused of sexual assault at Fort Campbell, KY.  Result:  No criminal charges.
Navy E-5 accused of use, possession and distribution of drugs at JAX Naval Base, FL.  Result:  Negotiated resolution, no criminal conviction, no jail time, no criminal record.
Army 0-5 accused of bullying and harassment at Fort Gordon, GA.  Result:  All allegations dropped after six week investigation.
Marine Corps E-3 accused of sexual assault at Camp Pendleton, CA.  Result:  All allegations dropped after investigation.
Navy E-4 charged with indecent recording at JAX Naval Base, FL.  Result:  All charges dropped.
Marine Corps E-4 charged with sex crimes at Quantico, VA.  Result:  All charges dropped.
Marine Corps E-4 charged with child pornography at Air Station Cherry Point, NC.  Result:  Not guilty of all charges after five day trial.
Media Appearances and Coverage
Supreme Court clears the way for Navy to fire Norfolk-based captain over COVID vaccine refusal, WAVY, March 29, 2022
For military service members, vaccination is the law, Stars and Stripes, March 1, 2022
Could the Vaccine Mandate Harm the U.S. Military in the Long-term, Federal Drive with Tom Temin Podcast Interview of Robert Capovilla, February 22, 2022
Biden signs executive order making sexual harassment an offense in military's judicial code, CNN.com, January 26, 2022
Sexual Assault Trial Postponed Over Army Judge's Unanimous Verdict Order, Stars and Stripes, January 6, 2022
'Looks like' House Approps Will Allocate $740B for Defense, Politico, January 4, 2022
Lt. Col. Scheller Freed from the Brig Ahead of Hearing on Potential Court-Martial, The Washington Times, October 5, 2021
Guillen Family Calls for Court-Martial of Soldier's Harasser as Military Consider Crime Reforms, Stars and Stripes, July 30, 2021
 Client Testimonials
"Robert Capovilla and his team recently litigated a difficult case for a family member. I've been a Police Officer for over 30 years and I have rarely seen a lawyer with his knowledge, expertise, and professionalism in a courtroom. We were very fortunate to have him representing us."
"Praising God for using Robert Capovilla. I cannot thank Rob and his team (Capovilla & Williams) enough for taking on my family's case. Having observed Rob Capovilla in countless trials as an Army JAG I knew he was the attorney to call on to assist my family in getting answers surrounding the death of our loved one. A true professional, Rob was very informative and straight forward in helping our family gain understanding into the circumstances surrounding the investigation. Rob was empathetic; he went above and beyond the call to represent/assist, and for that I am grateful. I highly recommend Robert Capovilla for your attorney needs."
"Without omitting any details, I was falsely accused of a crime I did not commit.Upon meeting with Mr. Capovilla, I noticed he was very charismatic and empathetic toward my situation from the very beginning. His professionalism and and knowledge of the law is unparalleled. Mr. Capovilla kept me informed at all times and in a prompt manner as well as answered any questions I had during this very difficult process. Although the process was very lengthy, the charges against me were dropped. I owe Mr. Capovilla my gratitude for fighting tooth and nail for me and presenting a strong case early on in the investigative process. I would undoubtedly recommend Mr. Capovilla and his team to anyone who finds themselves needing top-tier legal representation."
"I have nothing but great things to say about Robert Capovilla and the law firm. They helped me to achieve an honorable discharge when my commander recommended that I get a UOTH. Robert was great to have as a lawyer, anytime that I would text/call him, he would immediately respond with an answer to my questions. He prepared me perfectly before my discharge board which resulted in me being fully confident going into it. Throughout the board, I was deeply impressed on the showcase that Robert was putting on. The level of professionalism and experience that Robert portrayed were remarkable. He spoke clearly and precise and hit all of the key points without losing any interest from the board members. I won my discharge board because of Robert and am now able to finish my contract with an honorable discharge. You are definitely going to get your moneys worth hiring Robert Capovilla as your attorney to defend you."
Admissions
All Military Courts
Georgia
Ohio
Education
United States Army JAG School
United States Army Officer Basic Course
Ohio Northern University, Pettite College of Law, J.D.
Ohio Northern University, B.A. – Political Science
Professional Organizations & Affiliations
National Association of Criminal Defense Lawyers
State Bar of Georgia
*The results above are for informational purposes and are not to be construed as a guarantee of a specific result in your case.