Joshua W. Conklin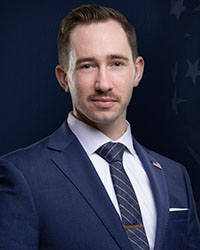 Background
Joshua joined the Army in 2016 as a Private, excelling through basic training at Fort Jackson, SC, and was promoted at graduation. He received honors at his Advanced Individual Training at Fort Lee for his exceptional leadership. He was then stationed at Fort Gordon, GA, where he initially worked in the military justice office.
Shortly after his promotion to PFC, Joshua received a waiver from his commander to be promoted to SPC ahead of his peers. He would go on to become a Sergeant in less than three years, graduating his Basic Leader Course on the Commandant's list. Joshua worked closely with the prosecutors on Fort Gordon and quickly became an integral part of the team. After his promotion to Specialist, Joshua applied to be the Noncommissioned Officer in Charge of the Trial Defense position. He was chosen for this position over others who out ranked him because of his dedication, intellect, and unlimited potential.
Joshua served as the noncommissioned officer in charge for the Trial Defense office on Fort Gordon, GA for two years. While on active duty, he assisted in defending 38 courts-martial and over 1000 Article 15 and separation actions.
While serving on active duty, Joshua learned he had a passion for legal defense and worked to obtain his bachelor's degree in legal studies with a minor in criminal justice. He graduated cum laude and immediately applied for law school. Today, he continues to defend Soldiers in the U.S. Army Reserves while attending law school.
Consider some of these testimonials his leaders have given about Josh:
"[U]nparalleled trust was given and expectations were far exceeded; the best paralegal
professional I have had the opportunity to work with."
"SGT Conklin possesses the intellect and maturity of a future leader within the JAG Corps. He
always produces exceptional work and his maturity and professional demeanor allowed clients
and the community to innately trust and respect him."
"[SGT Conklin was] depended on by all attorneys who worked with him for his knowledge of the
military justice system and interest in the law."
Awards and Decorations
ARCOM, GCM, AAM, NDSM, GWTSM, ASR, and COA.