Taking a Pretrial Agreement or Plea Bargain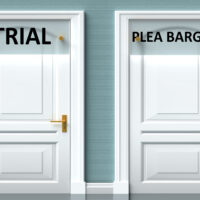 Our team of experienced military defense lawyers gets many questions about whether it's best to negotiate and accept a pretrial agreement that's been proposed  by the government, or go to trial to seek the best resolution to your legal issue.
The simple answer is that it depends on a number of very important factors which include:
The severity of what you've been charged with or are being investigated for, and the potential consequences of a negative outcome. A first-year soldier failing a drug test should typically be handled much differently than a 20-year officer facing a major felony level offense.
Where you've been charged and what we know about the military judge or panel members in that area. How prosecutors, judges, and panels at your base or installation routinely handle similar cases will impact the decision to accept a plea.
The credibility of the accuser – including possible motives – and any witnesses who may have information that either helps or hurts your case.
The existence of other evidence which may assist in your defense, including text messages, emails, voicemails, recorded interviews, rape kit results, and social media posts.
Your attorney and their level of experience in similar matters, military defense, their trial experience, and at your location. The more experienced the attorney, the more likely they are to perform well during trial and exploit the weaknesses of the Government's case.
What's at stake if there's a negative outcome. Whether you're at risk of losing your freedom, military career, honorable discharge, marriage, children, or other important things in your life matters significantly when evaluating plea bargains.
In our experience, the best way to discuss and evaluate pretrial offers is to be completely honest with our clients about all factors that should be considered.  That means we are going to tell you the good and the bad about the deal, why we think you should accept or deny it, and what it all means for your case.   There are absolutely cases where we recommend that our client accepts a plea deal.  And there are many cases where we have adamantly opposed the terms offered by the government.
We always say that it's difficult to make the wrong decision about accepting or declining a plea deal if you've carefully thought through the options with a skilled defense attorney.  Put another way, the fastest way to make a mistake when it comes to pretrial offers is to fail to consider all the things that could impact the result.  The best military defense lawyers won't let their clients do that, and we don't either.