Mickey Williams Appears on Newsy Morning Rush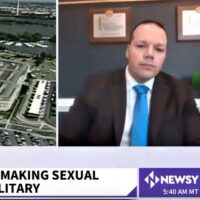 Partner Mickey Williams appeared on today's edition of Morning Rush with Alex Livingston to discuss a recent Pentagon report about sexual assault at U.S. military academies.
In addition to dissecting some of the key metrics in the report, Mickey provided his thoughts on the impact of Covid on last year's numbers as well as the potential impact of upcoming law changes.
To view the full interview, click here.