Guest Dave Schlueter Joins Military Justice Today Podcast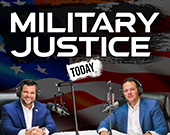 We are very pleased to announce that attorney and professor Dave Schlueter recently joined the Military Justice Podcast to discuss some of the hottest topics in military law.  In the episode, Dave weighs-in on changes to the National Defense Authorization Act as well as unanimous verdicts in the military courts.  The guys also give their all-time favorite military movies and characters.
Thank you Dave for appearing as a great guest on the show and we hope to have you back soon!  The episode is available now on all the major podcast platforms or on our YouTube page here.