Capovilla & Williams Receives Award from Fort Bragg MWR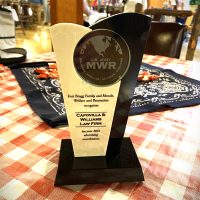 Capovilla & Williams was recently honored at the 2022 Fort Bragg Family & MWR Awards Ceremony.  It was a great night to celebrate all the companies and organizations that support one of the top military bases in the world and all the great done in Fayetteville, NC to protect our nation.
It was also great to see and spend time with the MWR staff.  You will not find harder working folks who are more committed to supporting military families anywhere in the world, and we admire their constant dedication to excellence in the work they do.