Rob Capovilla Attends Gold Star Family Event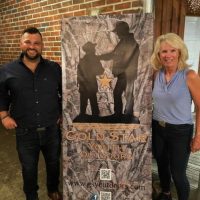 Rob Capovilla recently attended the Gold Star Youth Outdoors Banquet held at Fort Moore in Columbus, GA. This nonprofit 501(c)(3) organization was founded by CSM (Ret.) Mark Moore with a mission to provide outdoor opportunities to children of fallen service members.
Special thanks to Carol McClure and the McClure Foundation for this unique opportunity to play a small role in such a great cause.