Guest Dave Schlueter Joins the MJT Podcast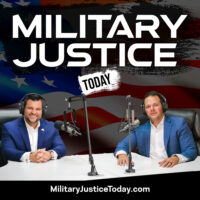 In this episode of Military Justice Today, Rob and Mickey talk with Dave Schlueter, one of the country's foremost military law experts. Topics include changes to the National Defense Authorization Act as well as unanimous verdicts in the military courts. The guys also weigh-in on their all-time favorite military movies and characters.
To listen to this episode on our YouTube page, click here, or find us on all the major podcast platforms.